Page 1 of 15
Self-Build
QRP-99 3 bands 20-40-80M HF transceiver
Myself and a fellow amateur (PA3WWW) ordered this project from KN electronic.
The whole comes well packaged and delivered in a box.
While building this project, there were a few aspects that we encountered that needed to be resolved.
For example, the coils of the pre-selector for the 20 meters and 80 meters were swapped by KN-electronic .... 
during measurements with the spectrum analyzer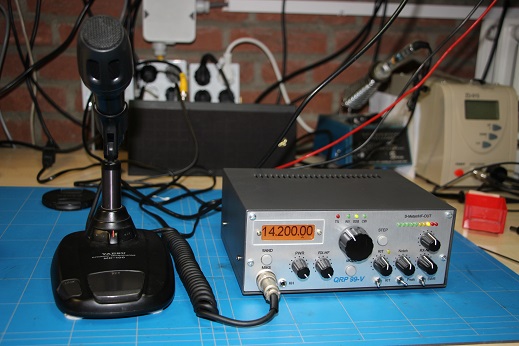 I found out that i lost my signal behind de preselector coils.
PA3WWW measured the coils after de-soldering out and the fault was confirmed.
Surely it is necessary to have measuring equipment for the aligment of this project and solve problems.
In the end we were both able to build our project with good results.
Below a brief description of the kit.
With this kit it is possible to build a high quality transceiver for the 80, 40 and 20 m band.
The kit includes all necessary parts including the knobs and sockets.
SMD are already installed, the filter coils are fully wrapped.
VFO and front unit are already prefabricated in the interest of a high degree of replica safety.
The QRP 99-V represents a complete overhaul of the Series 99.
In general, installation has become easier and clearer thanks to the use of professionally manufactured printed circuit boards, of course
with component printing, as well as the larger housing and the substantial simplified wiring.
The housing is 5 cm wider than the previous models and thus offers considerably more space.
Band switching and microphone connection are located on the front panel.
Frequency range: 3.5-3.8 / 7-7.2 / 14.0 to 14.35 MHZ
Operating modes: USB, LSB, CW, Digimodes; controller-controlled switching logic; Output power 10 W.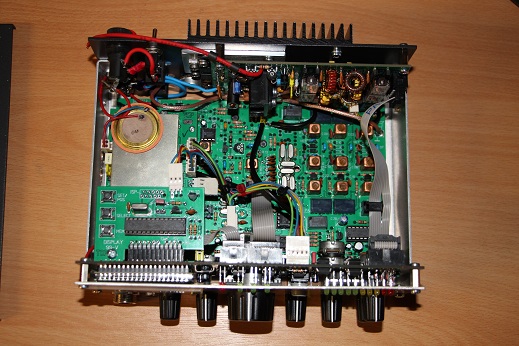 (continuously adjustable); seven-digit digital display - GLCD with backlight
10 Hz resolution; Digital VFO (DDS); Coordination with optical encoder;
switchable step size; automatic frequency storage; RX as single conversion, 9 MHz
IF, 3-circuit preselector, active mixer ...
QRP-99V-01
Band switching with bistable relays; integrated notch / peak filter; open collector output e.g. for controlling an external PA;
Operating voltage 12 to 15 V / approx. 180 mA when received, up to 3 A when sent;
Professionally manufactured printed circuit boards: solder stop, component print, through-plated;
Weight (assembled) approx. 1.2 kg; Dimensions: 200x150x80 mm
Powder coated aluminum housing; anodized aluminum front panel with inlaid letters;
Detailed German building instructions